Click a Sponsor Suite below to learn more!

Choose Your Own Adventure:
Presented by Illumina
Check out Illimina's awesome virtual video adventure!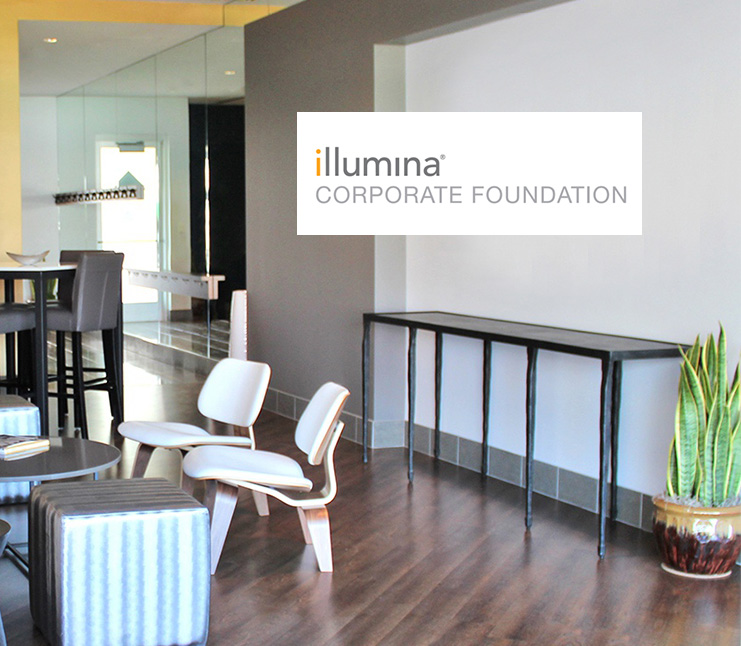 General Sessions presented by Qualcomm
Mentor Moment with Michael Alston
Qualcomm(R) Thinkabit Lab(TM): World of Work
Qualcomm Virtual Reality Lab Tour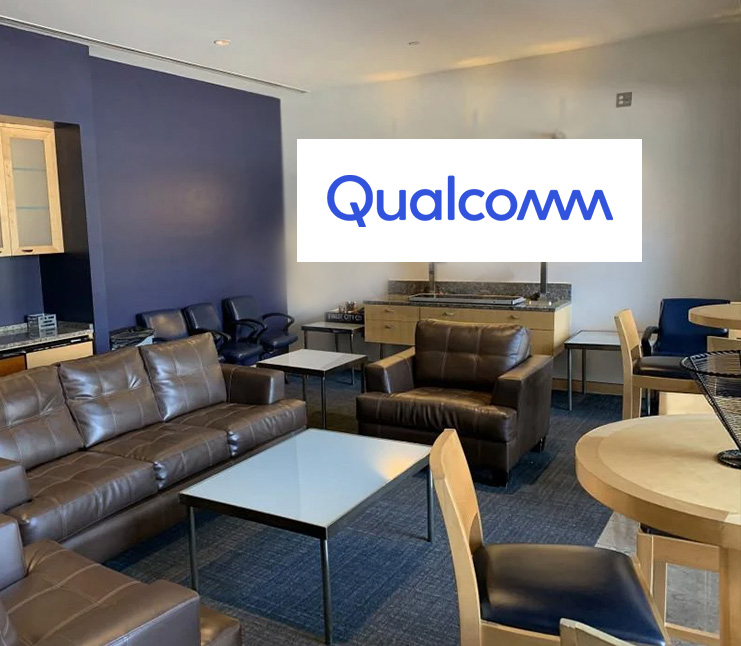 To live well is to make healthy choices every day. To feel safe and secure at work, at school, at home and in your neighborhood. To have the highest possible quality of life.
Live Well San Diego is a vision for the San Diego region where individuals, organizations, and government all work together to improve the health, safety, and overall well-being for every one of the 3.3 million residents living in our county.
From coordinating the public health response to the coronavirus pandemic, to
You can take part in the vision by:
Making Positive choices:
To help you achieve your goals for living well, LiveWellSD.org can connect you to Live Well San Diego Signature Events to improve heart health, mental health and physical health and connect you to nature, like with our upcoming Trails Challenge..
Participating in Live Well San Diego Recognized Partner programs:
With over 500 official partners, LiveWellSD.org can help connect you to partner services, programs and events, just like the Science and Engineering Festival hosted by Biocom Institute.
Contributing to improve the quality of life of those around you:
If you are looking for a way to help your community live well, then LiveWellSD.org can help connect you to opportunities to volunteer your time and talents to help all San Diegans be healthy, safe and thriving.
Whether you are looking to make changes in your own life or want to lend your voice to create change for the greater good, Live Well San Diego needs leadership from both individuals and organizations to bring about positive change. Over 500 organizations have committed to the vision, so that wherever you live, work, play or pray, an organization or individual is nearby and working to improve your well-being and the health of your community.
Our impact:
The Live Well San Diego vision was launched in 2010 as a response to a startling statistic that found that throughout the nation and locally three behaviors (poor nutrition, lack of physical activity and tobacco use) were contributing to four diseases (heart disease/stroke, cancer, type-2 diabetes and respiratory conditions) that resulted in over 50% of the deaths in the nation (3-4-50: Chronic Disease in San Diego County). In San Diego County, these diseases were responsible for 57% of all deaths in 2007.
Over the last 10 years, efforts in support of the Live Well San Diego vision have driven a 12% reduction in the percentage of deaths associated with preventable health threats (2019).
Together, we can do more than each of us can do alone. Join us!
Thank you:
The County of San Diego is the backbone organization that supports and guides the Live Well San Diego vision. Thank you to the County's Land Use and Environmental Group teams (Agriculture, Weights and Measures; Environmental Health & Quality; County Parks; Public Works), San Diego County Library and Health and Human Services Agency for their contributions to this event!
General Sessions presented by Live Well San Diego
Ask An Expert: How Do I Safely Start a Campfire?
Ask An Expert: Snake on the Trail! What Do I Do?
Ask an Expert: What is Good Camping Etiquette?
Ask An Expert: What should I bring on my first hike?
Ask An Expert: What should I do if I encounter a swarm of bees?
Ask An Expert: What's causing some oak trees to die?
Beach and Bay Water Quality Monitoring Program, County of San Diego
Entomology Lab Tour
How Soap Works
Let's Talk Mosquitoes!
Mentor Moments with Anna Prowant
Mentor Moments with Beth Principe
Prickly Situation for Hikers: How to Remove Cactus
Tips for Hiking on a Hot Day
Trail Etiquette - Share and Be Aware
Watershed Protection Program Stormwater Management
---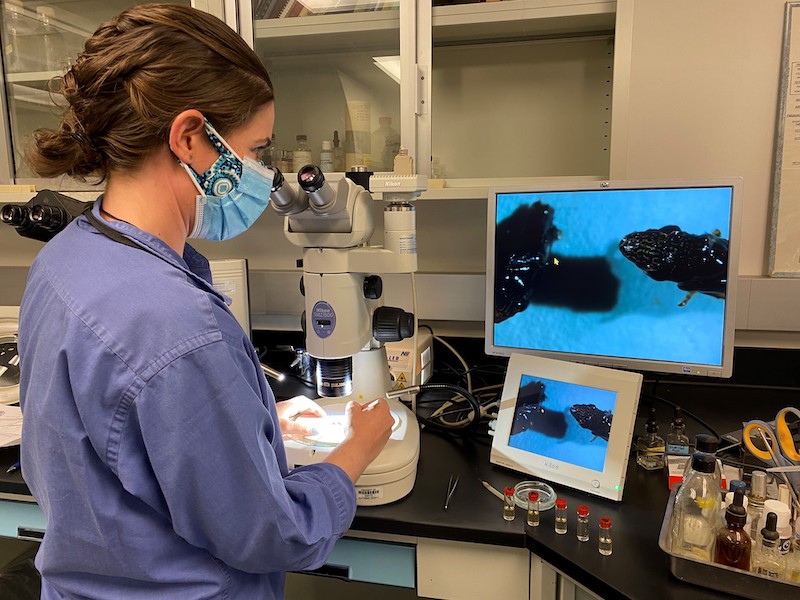 Agricultural Scientist examines some leafhopper specimens collected as part of the glassy-winged sharpshooter/Pierce's disease protection program.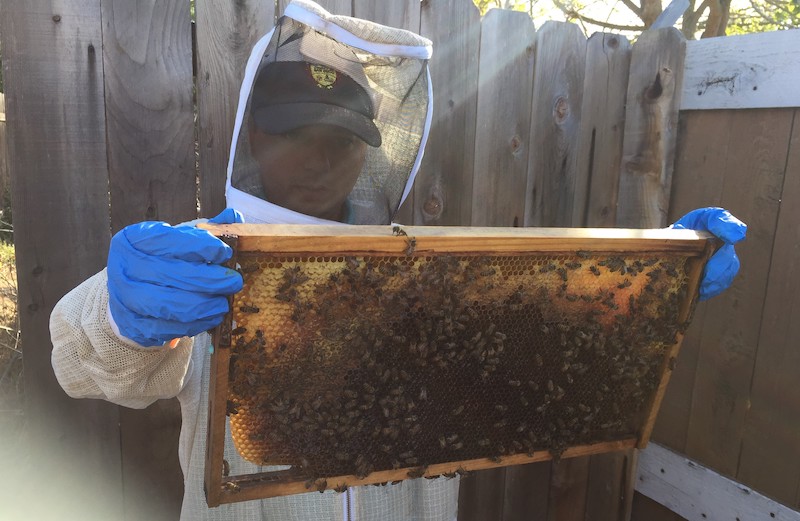 Honey bee hives are examined during an apiary inspection as part of the Honey Bee Protection Program.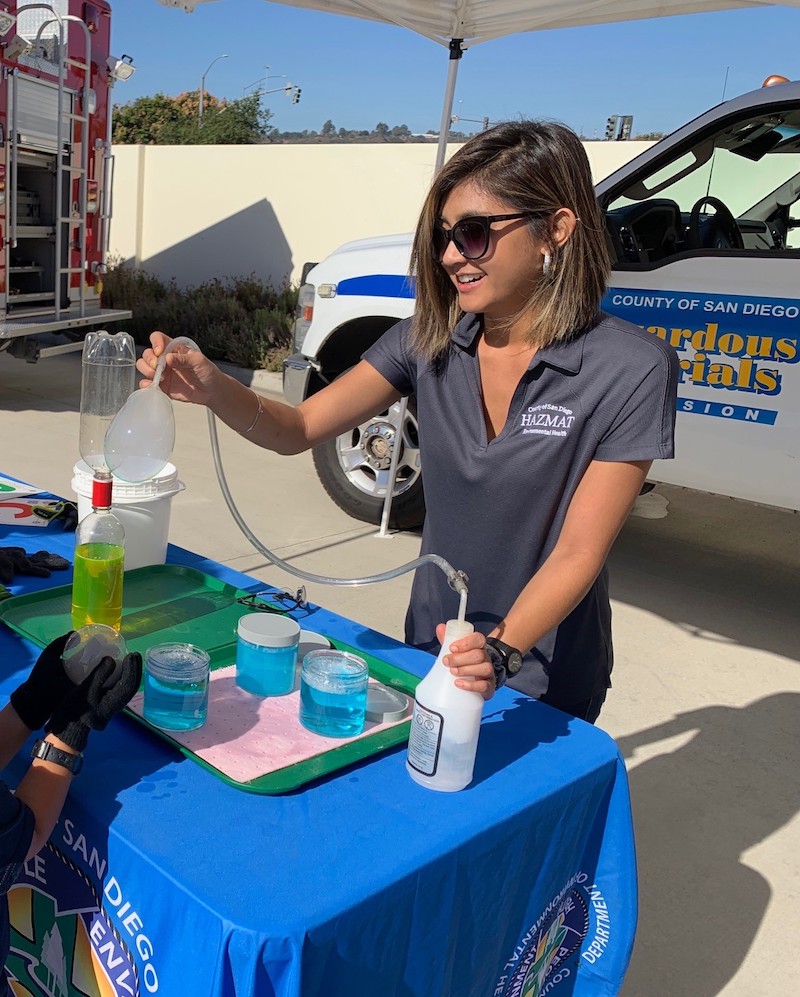 An Environmental Health Specialist from the County of San Diego Hazardous Materials Division demonstrates a science experiment using soap, water and dry ice.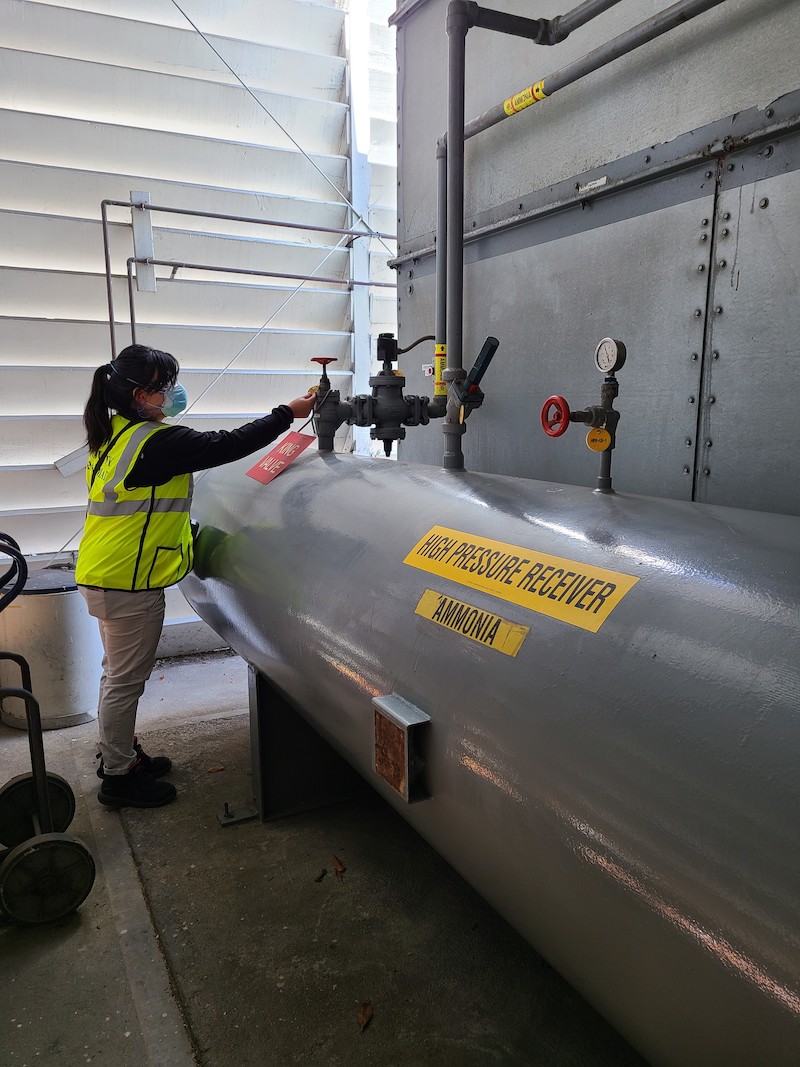 Environmental Health Specialists in the County of San Diego Hazardous Materials Division inspect businesses that handle hazardous chemicals to protect the environment and public health.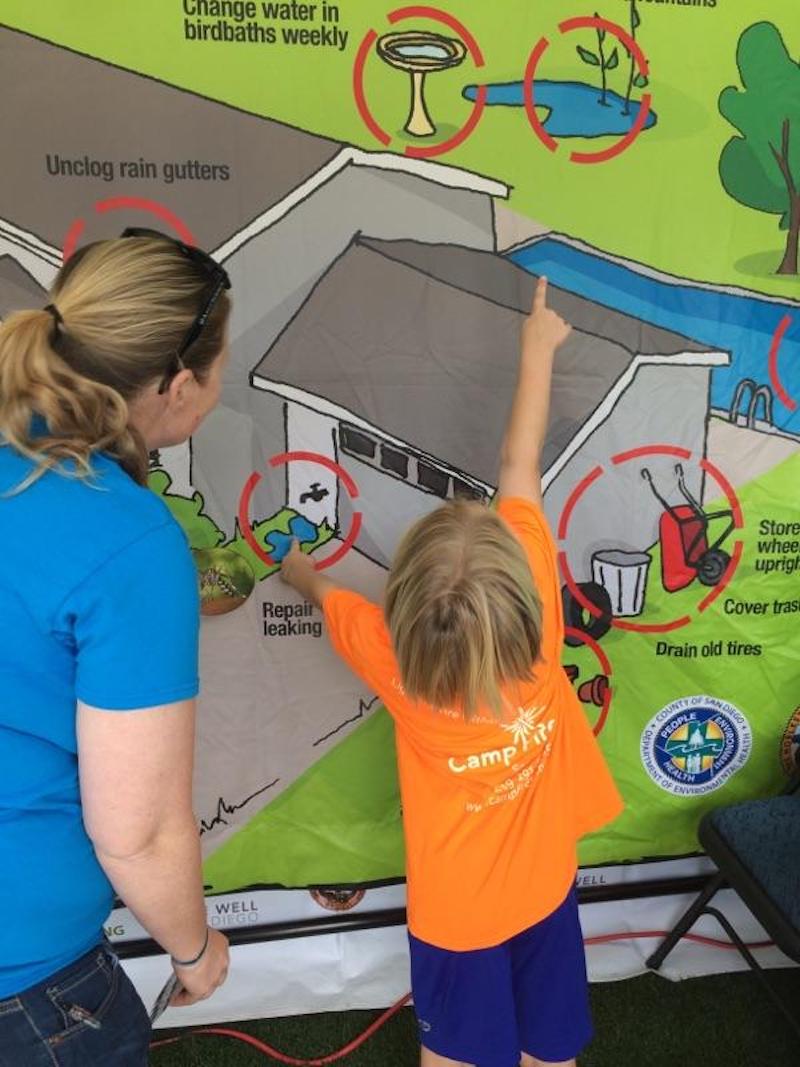 Fight the Bite Vector Control plays a game to show youth where mosquitos could be found in their yard.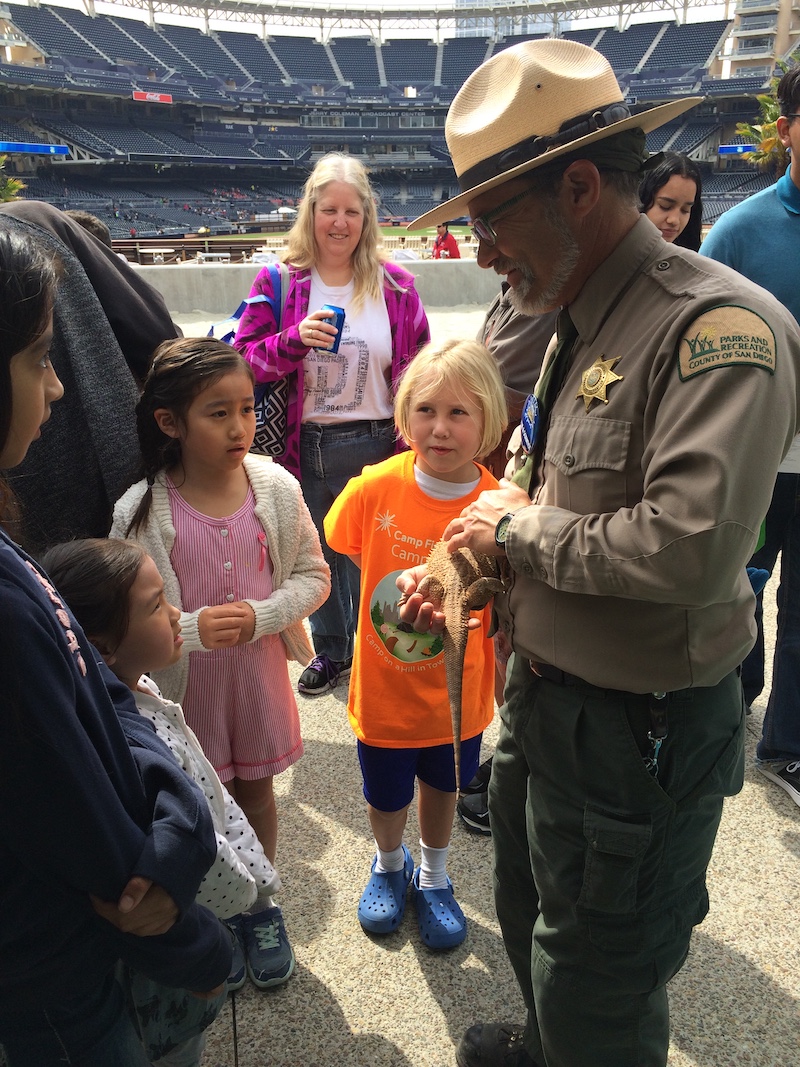 Ranger Kyle from County Parks and Recreation shares a bearded dragon with young and the young at heart at a previous STEM Festival event.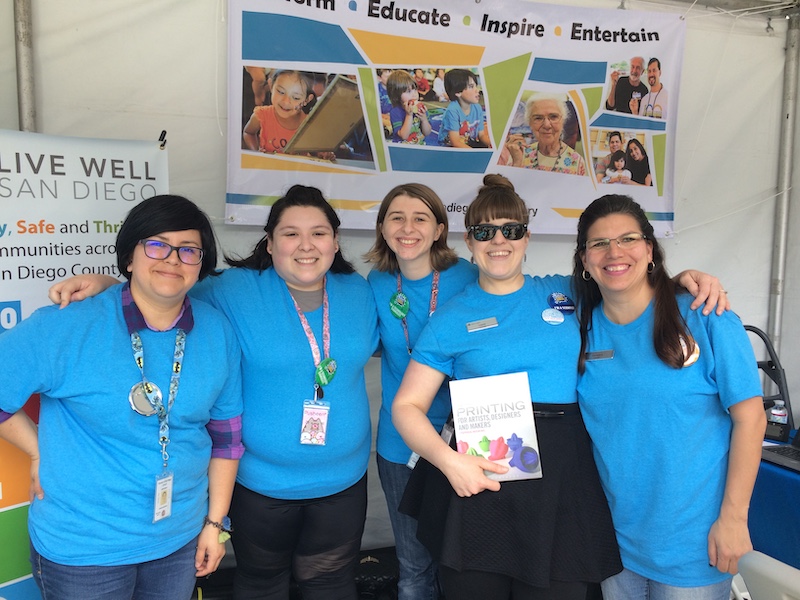 The Library outreach team poses for a picture at a previous STEM Festival event where they shared about robots and 3D printing.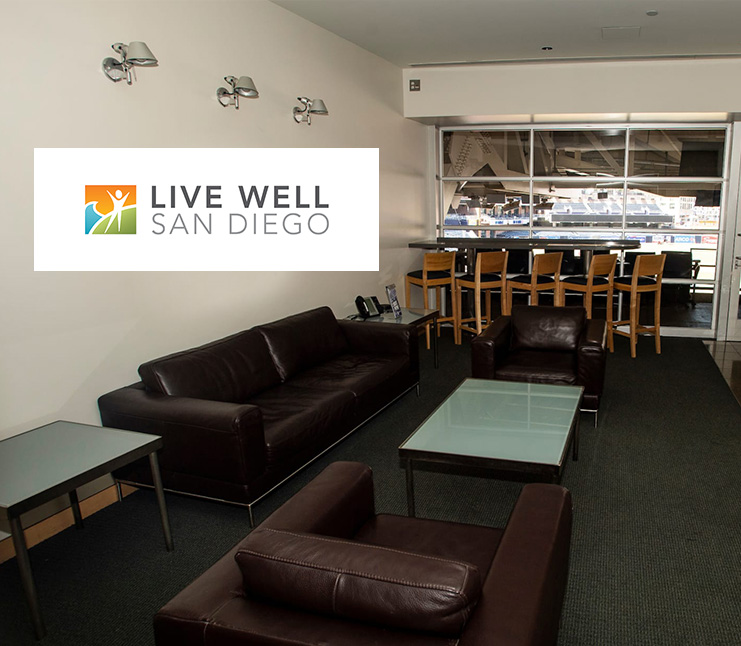 Thermo Fisher Scientific is the world leader in serving science. Our mission is to enable our customers to make the world healthier, cleaner and safer. Whether our customers are accelerating life sciences research, solving complex analytical challenges, improving patient diagnostics and therapies or increasing productivity in their laboratories, we are here to support them. Our global team of more than 80,000 colleagues delivers an unrivaled combination of innovative technologies, purchasing convenience and pharmaceutical services through our industry-leading brands, including Thermo Scientific, Applied Biosystems, Invitrogen, Fisher Scientific, Unity Lab Services and Patheon.
Custom-Built Kits for Your Classroom
Fisher Science Education 2021 Product Catalog
---
Take the DIY STEM Challenge
---
More STEM Activities from ThermoFisher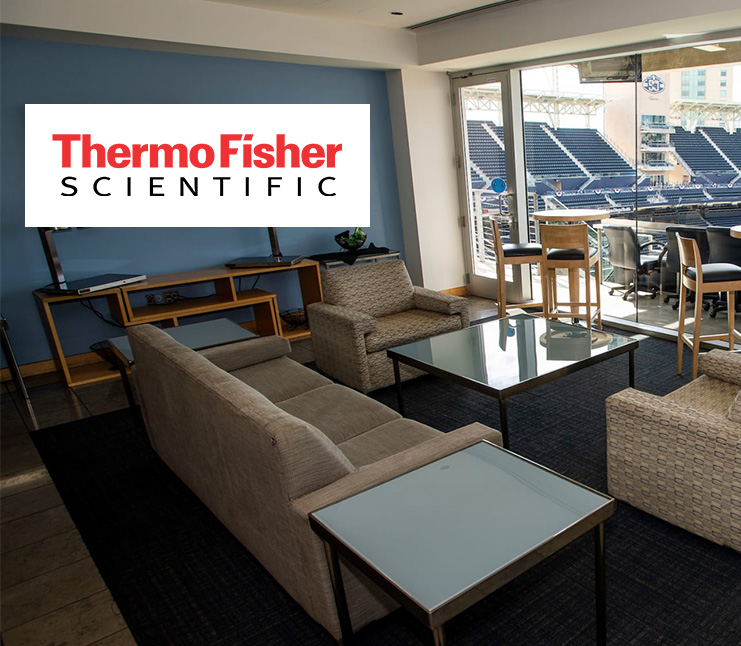 Watch these General Session Videos presented by the US Navy
Day in the life of U.S. Navy STEM opportunities
Career Talks about STEM fields in the U.S. Navy
Mentorship in the United States Navy
Downloads
Information Systems Technician Naval Nuclear Operations
Forever GI Bill FAQ Empowering Women
Follow Us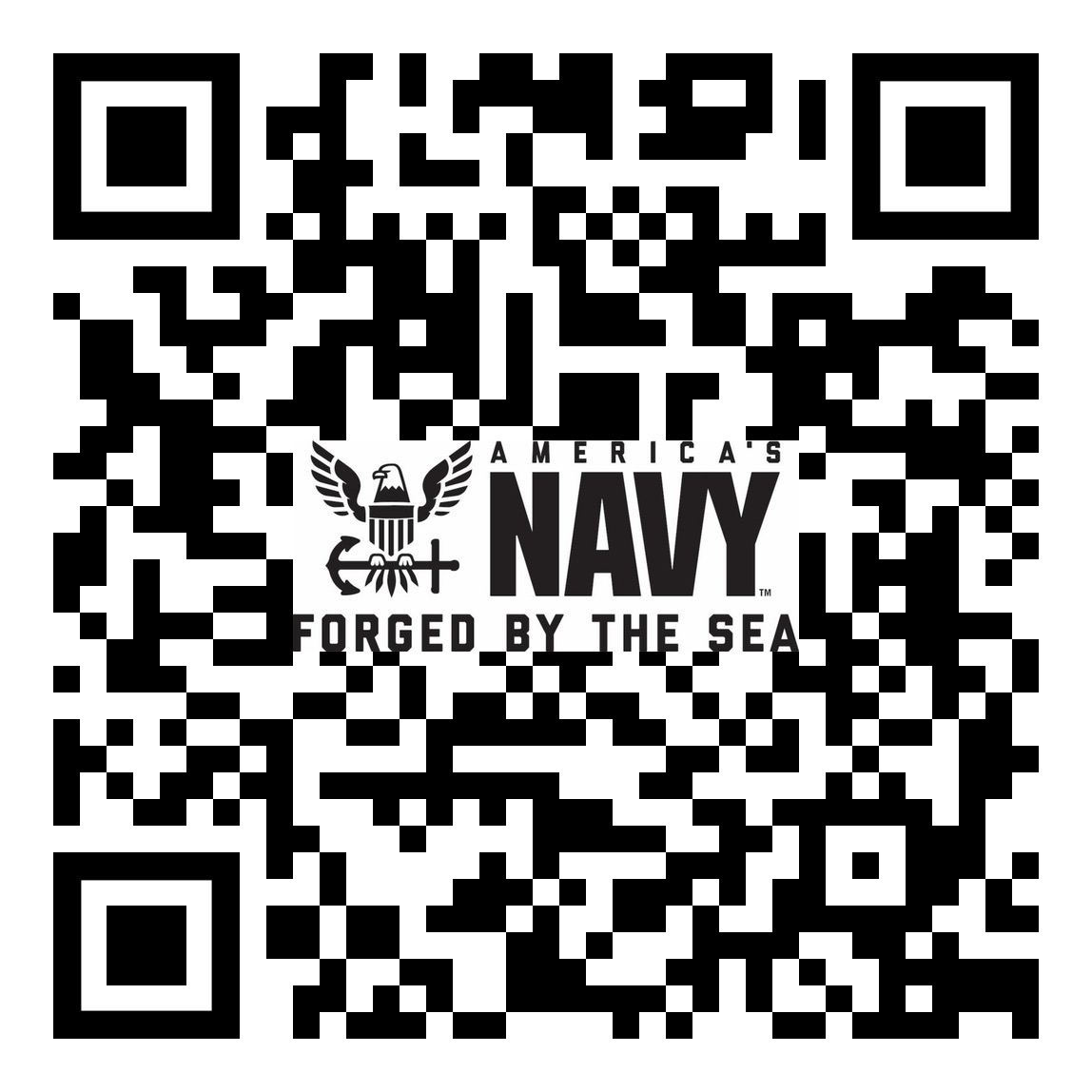 (Scan the QR Code Above and Follow the Link)
---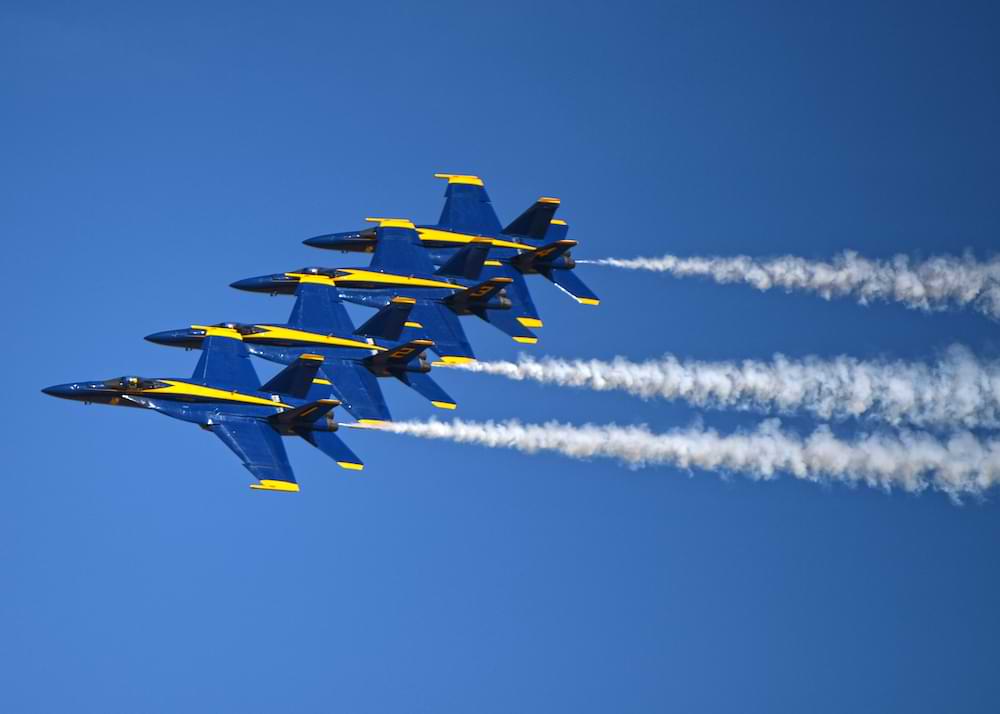 The U.S. Navy Flight Demonstration Squadron, the Blue Angels conduct 2nd Annual Joint Training to exchange best practices and lessons learned for show season preparation onboard Naval Air Facility (NAF) El Centro, Feb. 26, 2021. U.S. Navy photo by Mass Communication Specialist 3rd Class Drew Verbis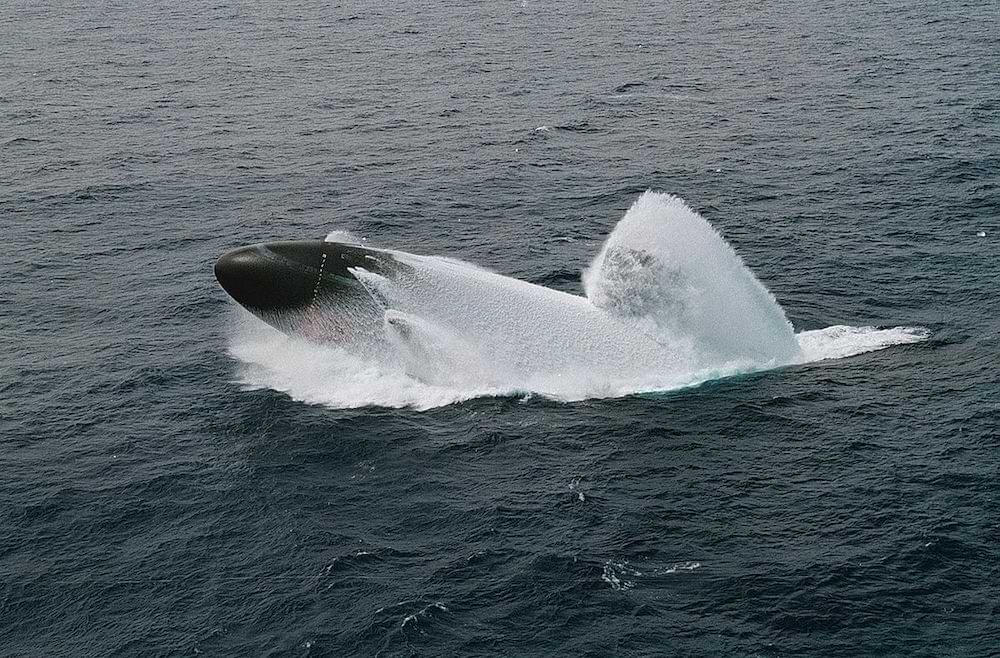 USS Columbus conductus Emergency Surface training operations.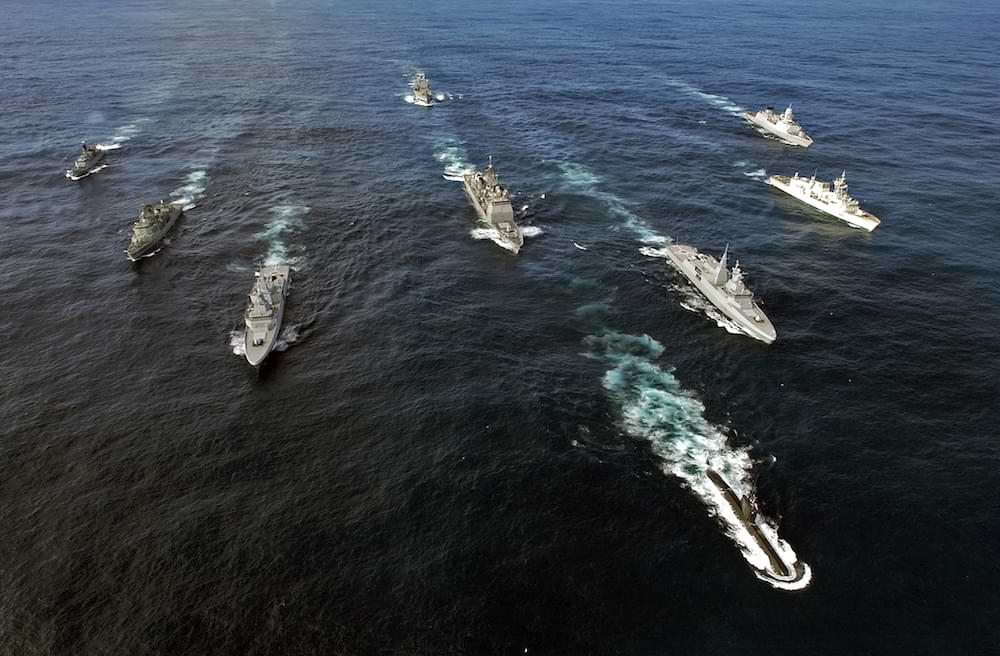 Pictured left to right: HDMS OLFERT FISCHER (Denmark), NRP ALVARES CABRAL (Portugal), SAS AMATOLA (South Africa), USS NORMANDY (USA), SAS ISANDLWANA (South Africa), HMCS TORONTO (Canada), and HNLMS EVERTSEN (The Netherlands). Front: SAS MANTHATISI (South Africa). Rear: FGS SPESSART (Germany). The ships that make up Standing NATO (North Atlanta Treaty Organization) Maritime Group (SNMG) 1 transit in formation while participating in exercise "amazolo" with the South African navy. SNMG1 is on a historic NATO deployment circumnavigating Africa for the first time and traveling more than 12,500 miles with six ships from six different nations. During the deployment, SNMG1 is scheduled to conduct presence operations in the Gulf of Guinea, Horn of Africa, and Red Sea.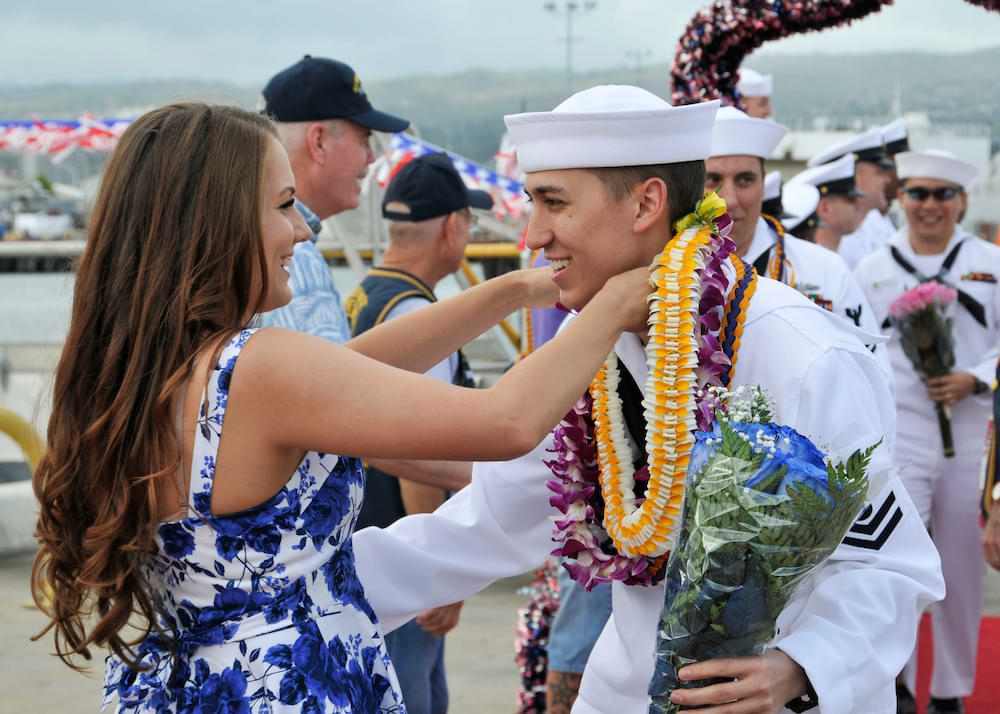 Electrician's Mate 2nd Class Joshua Nimis from the Los Angeles-class fast attack submarine USS Columbus (SSN 762) hugs his girlfriend at the submarine piers on Joint Base Pearl Harbor-Hickam following the return of the submarine from a six-month deployment to the western Pacific region. (U.S. Navy photo by Mass Communication Specialist 1st Class Steven Khor/Released)

BEAUFORT SEA, Arctic Circle (Mar. 07, 2020) -- The Seawolf-class fast-attack submarine USS Connecticut (SSN 22) surfaces in the Arctic Circle during Ice Exercise (ICEX) 2020. ICEX 2020 is a biennial submarine exercise which promotes interoperability between allies and partners to maintain operational readiness and regional stability, while improving capabilities to operate in the Arctic environment. U.S. Navy photo by Mike Demello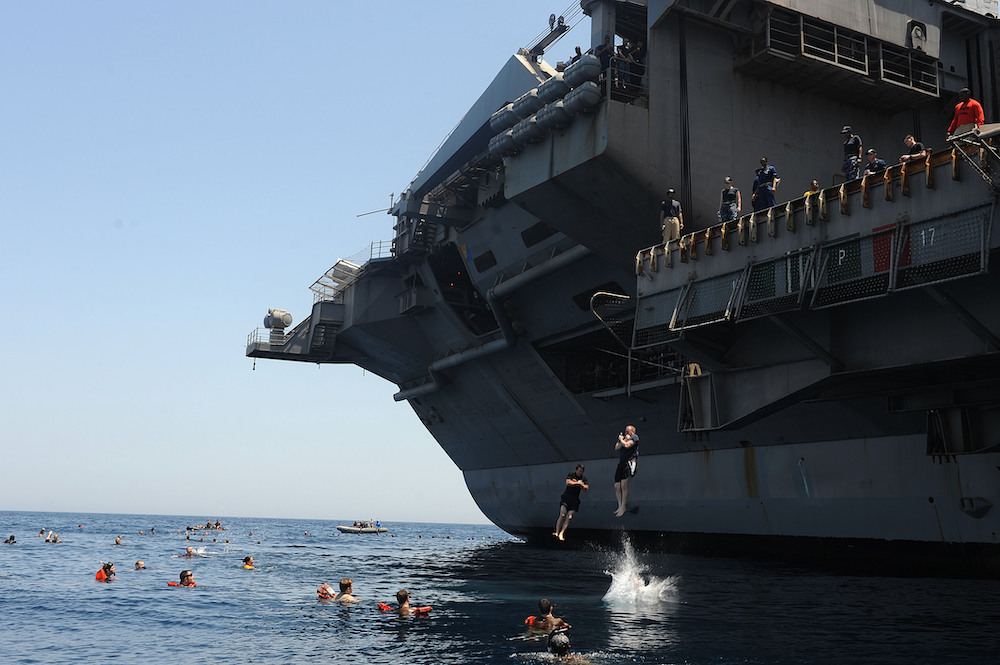 NORTH ARABIAN SEA (May 12, 2013) Sailors jump from an aircraft elevator during a swim call aboard the aircraft carrier USS Dwight D. Eisenhower (CVN 69). Dwight D. Eisenhower is deployed to the U.S. 5th Fleet area of responsibility promoting maritime security operations, theater security cooperation efforts and support missions as part of Operation Enduring Freedom. U.S. Navy photo by Mass Communication Specialist 2nd Class Ryan D.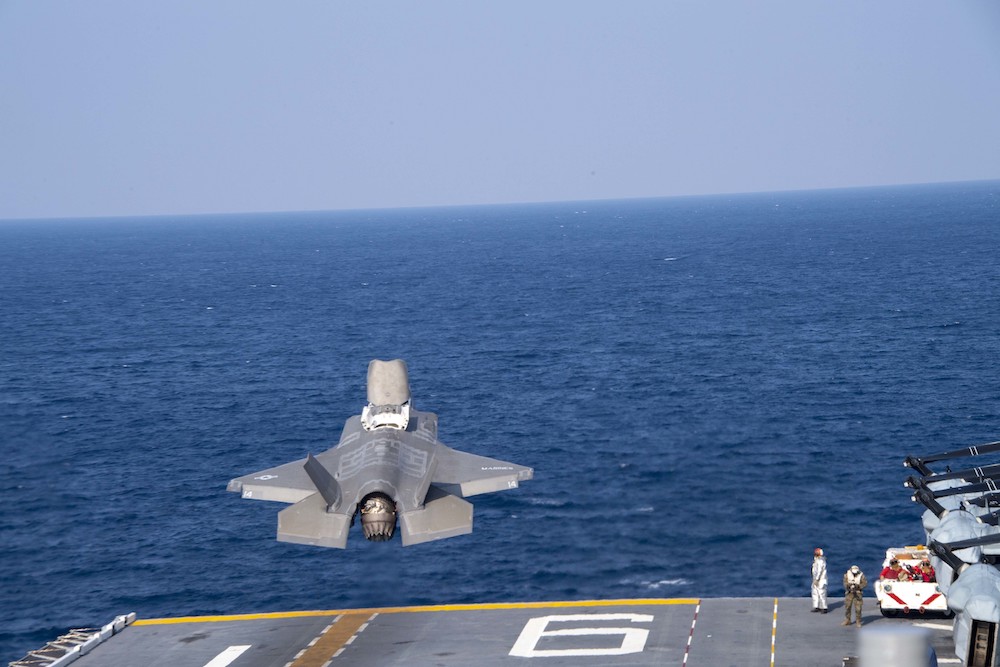 EAST CHINA SEA (April 10, 2020) An F-35B Lightning II assigned to the 31st Marine Expeditionary Unit (MEU), Marine Medium Tiltrotor Squadron (VMM) 265 (Reinforced) takes off from the flight deck of amphibious assault ship USS America (LHA 6). America, flagship of the America Expeditionary Strike Group, 31st Marine Expeditionary Unit team, is operating in the U.S. 7th Fleet area of operations to enhance interoperability with allies and partners and serve as a ready response force to defend peace and stability in the Indo-Pacific region. U.S. Navy photo by Mass Communication Specialist Seaman Apprentice Theodore C. Lee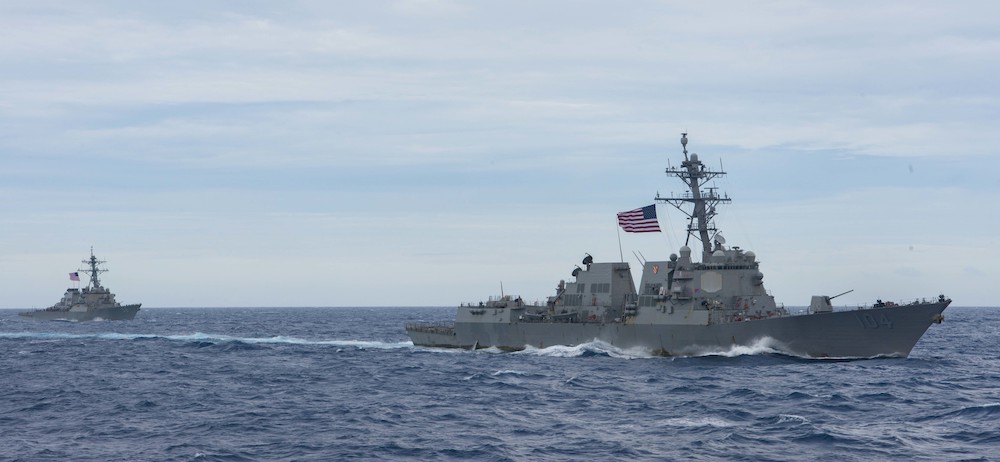 SOUTH CHINA SEA (FEB. 09, 2021) USS Sterett (DDG 104) and USS John S. McCain (DDG 56) steam alongside USS Nimitz (CVN 68). The USS Nimitz and USS Theodore Roosevelt Carrier Strike Groups are conducting dual carrier operations in the Indo-Pacific in support of maritime security operations and theater security cooperation efforts. U.S. Navy photo by Mass Communication Specialist Seaman Caitlin Flynn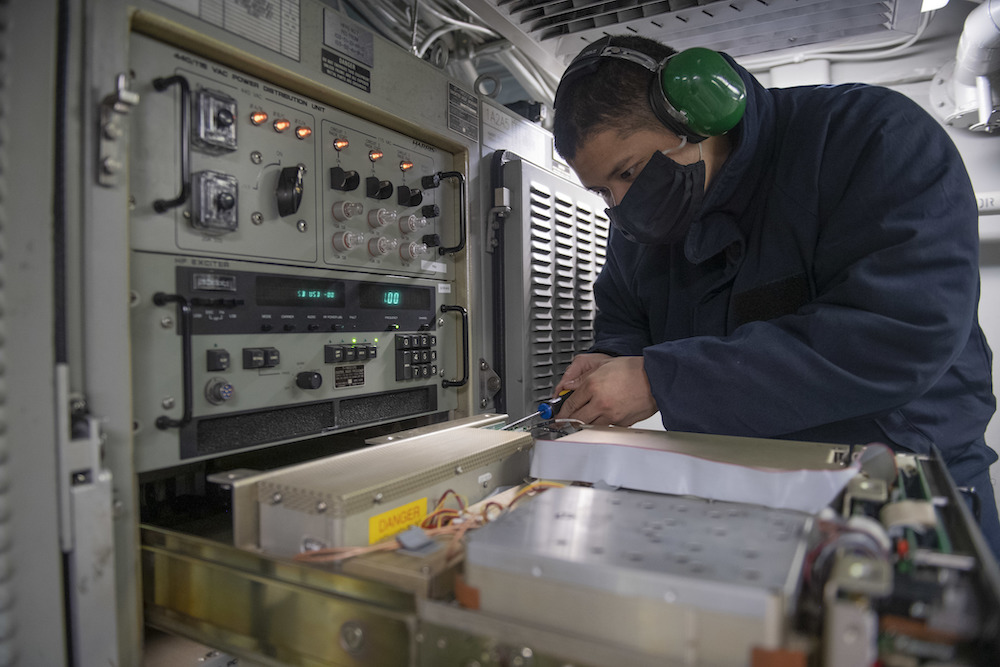 INDIAN OCEAN (Jan. 11, 2020) – U.S. Navy Electronics Technician 3rd Class Travis Patterson installs a power supply on the high frequency radio group aboard the amphibious transport dock ship USS San Diego (LPD 22). The San Diego, with the Makin Island Amphibious Ready Group, and the 15th Marine Expeditionary Unit are conducting operations in the U.S. 6th Fleet area of responsibility. U.S. Navy photo by Mass Communication Specialist 2nd Class Brandon Woods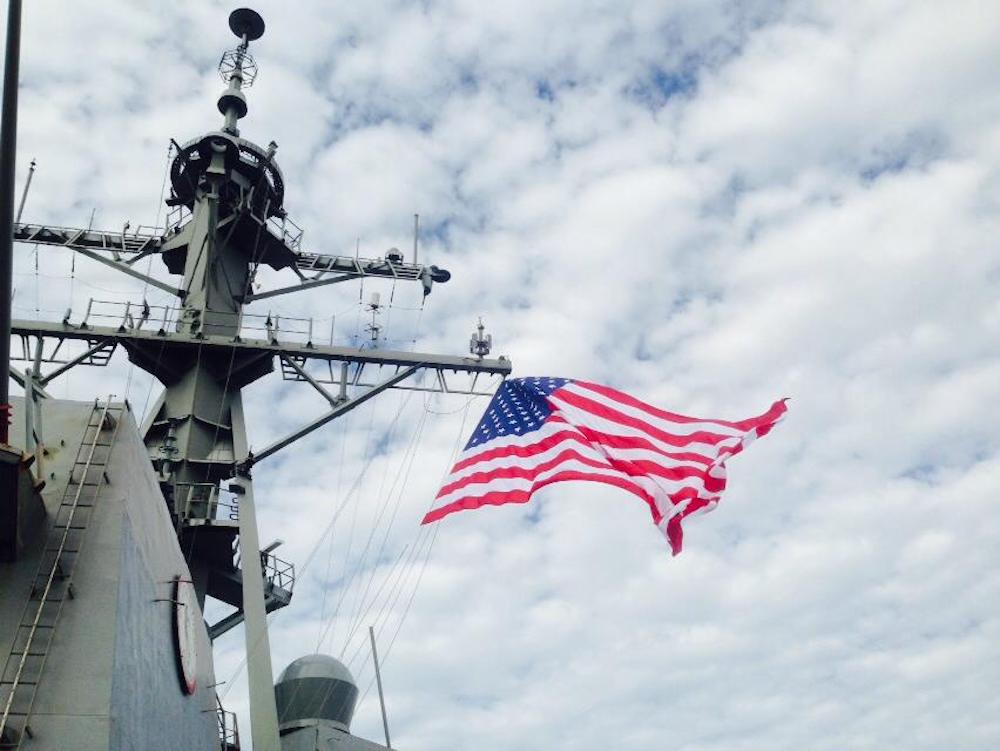 USS Pinckney proudly displaying the United States Flag on deployment in 2017. Photo credit to ET1 Megan Stilley.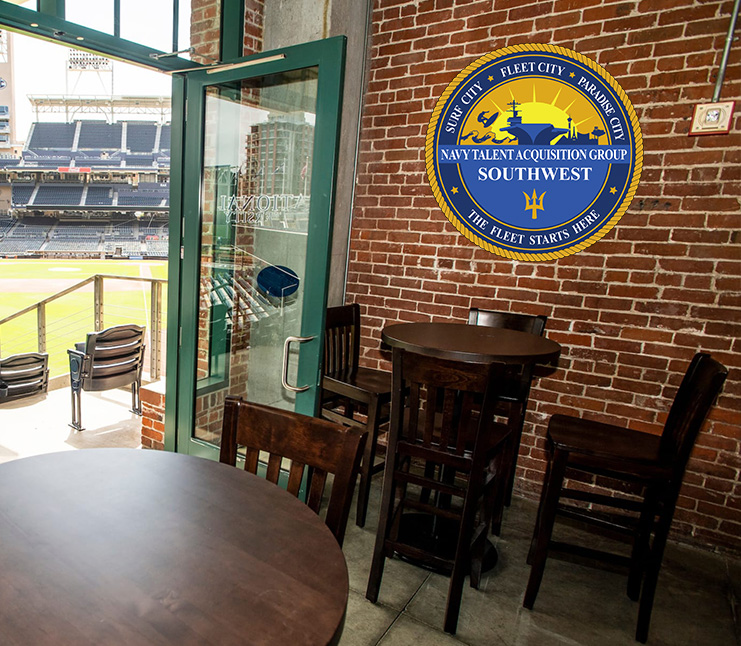 Welcome to the Neurocrine Biosciences virtual booth!
Have you ever wanted to make a balloon rocket? What about ice cream? Well, you've come to the right place! Our scientists and their kids have created six fun experiments you can try at home with a parent or another adult.
Want to learn more about a career in science? Our innovative Automation team will walk you through automation in drug discovery. Hint: There is a robot involved!
Thanks for stopping by – we are inspired by you and the future generation of scientists!
General Sessions presented by Neurocrine Biosciences
Career Discussion with Neurocrine Scientists
Cartesian Scuba Diver
Clay Boat Experiment - Archimedes' Principle
Frankenstein's Hand - Chemical Reaction
Making Ice Cream
Marshmallow Catapult - First Law of Thermodynamics
Neurocrine Automation Compound Development Process
Two-Stage Balloon Rocket
Neurocrine Biosciences is a neuroscience-focused, biopharmaceutical company dedicated to discovering, developing and delivering life-changing treatments for people with serious, challenging and under-addressed neurological, endocrine and psychiatric disorders. The company's diverse portfolio includes FDA-approved treatments for tardive dyskinesia, Parkinson's disease, endometriosis*, uterine fibroids* and clinical programs in multiple therapeutic areas. For nearly three decades, Neurocrine Biosciences has specialized in targeting and interrupting disease-causing mechanisms involving the interconnected pathways of the nervous and endocrine systems. For more information, visit neurocrine.com.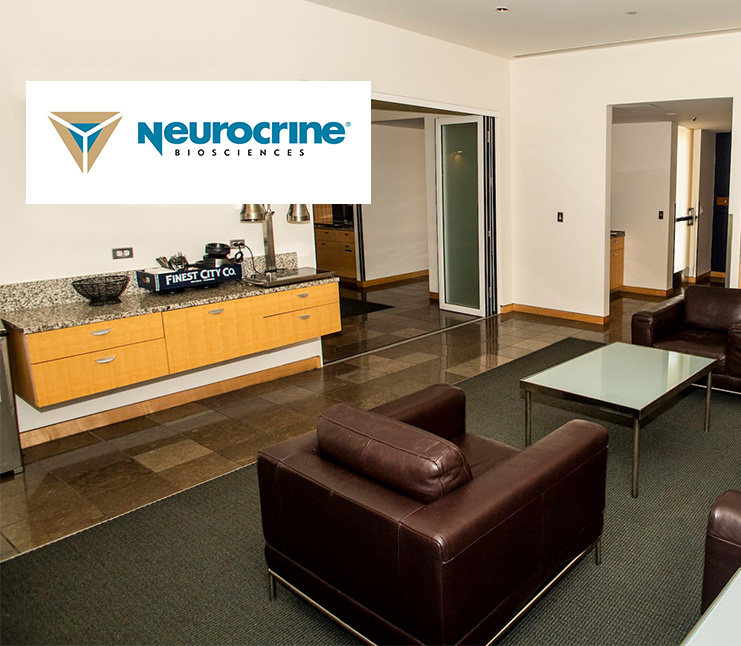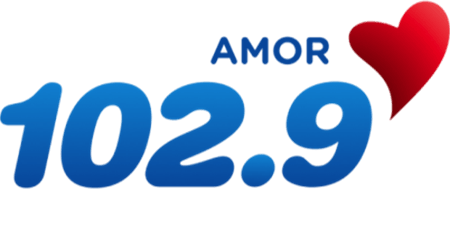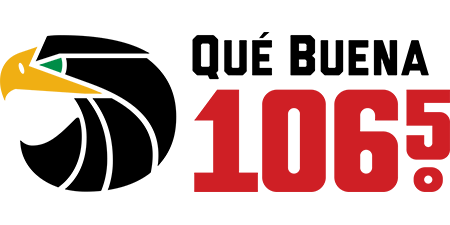 Amor 102.9 FM plays the best of today's favorite pop songs and yesterday's hits.
Que Buena 106.5 FM is home for the most popular regional Mexican music. You can listen to our stations on your FM dial or download the Uforia app.
Check us out on Facebook at facebook.com/1029amor and facebook.com/quebuena1065 on your computer or mobile device.
Amor 102.9 and Que Buena 106.5 are Univision Radio San Diego. We are proud to continue serving the San Diego community. Listeners and advertisers have enjoyed and trusted our radio stations for over 20 years. Our mission is to inform, empower and entertain our audience.